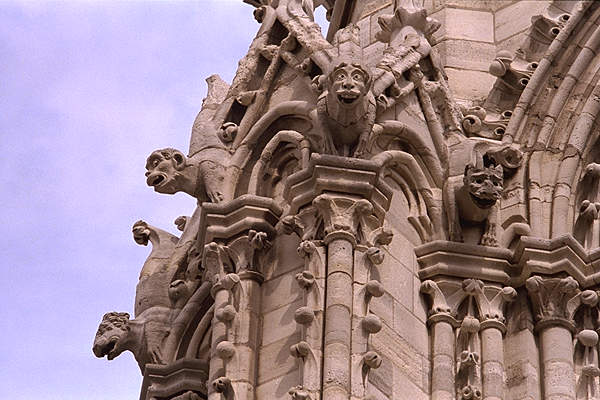 Let's finish the week with the awesome power of one of the world's largest pipe organs…the five keyboards, 109 stops, and nearly 8,000 pipes of the grand organ at Notre Dame Cathedral in Paris. Olivier Latry is performing the virtuosic Toccata from Charles-Marie Widor's organ Symphony No. 5 in F minor, written in 1879.
Born into a family of organ builders in Lyon, Widor became assistant to Camille Saint-Saëns at L'église de la Madeleine in Paris at the age of 24. In 1890, he succeeded César Franck as organ professor at the Paris Conservatory. His ten symphonies for solo organ are part of a French "organ symphony" tradition which began with Franck's 1863 Grand pièce symphonique. You can hear Widor's complete Fifth Symphony here.
In the most climactic moments, this instrument (or beast) growls with a stunning, guttural intensity. At the same time, in the upper register, the sound takes on a shimmering sparkle. Listen to all the layers of rhythm that thrust the piece forward, from the rapid arpeggios to the deep pedal tones. It's an exhilarating ride that descends into muted darkness, then re-emerges and breaks out into an earth-shattering recapitulation. Following the final chord, you'll get a sense of Notre Dame's eight and a half second acoustical delay.
[unordered_list style="tick"]
[/unordered_list]