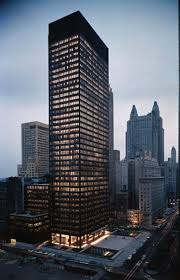 "God is in the details," said Ludwig Mies van der Rohe (1886-1969), one of the most significant architects of the twentieth century. Mies followed a modernist "less is more" aesthetic, which eliminated decoration and stripped architecture down to fundamental elements of structure and proportion. The results were serenely powerful and soulful monuments such as New York's Seagram Building.
Mies, whose father was a master mason and stonecutter, found beauty in materials. Bronze, travertine, marble and glass were used in the Seagram Building, making it the most expensive skyscraper ever built at the time of its completion in 1958. The building was set back from the street in the middle of a large plaza, providing a satisfying visual break from the relentless New York grid and reinforcing the contrast with surrounding pre-war masonry structures. Mies paid attention to the way the carefully spaced window panels and vertical bronze mullions related to the lines of the plaza. To preserve the crisp geometry, window shades could be operated in three positions: fully open, halfway open/closed, or fully closed.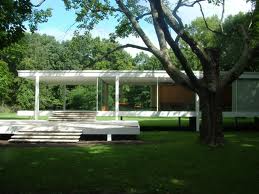 As other architects began following Mies' lead throughout the 1960's and 70's, sleek, boxy skyscrapers began popping up in cities across the country. Unfortunately, many of the imitations lacked the elegance and sense of proportion which made Mies' buildings come alive.
Recently, I began thinking about the importance of attention to detail in music. How can I move from one note to the next in a way which allows the music to flow? How should a phrase be shaped? How can I convey the structure of a piece? What sound quality and tonal colors are appropriate to the emotion of the music? Playing the right note at the right time is often a challenge, but it's just the beginning. Musicianship is about how the notes are played. It's a combination of thought and intuition. Listening is essential.
The physical motions of violin playing can be broken down into parts. If a technical element seems difficult, it's probably the result of lack of attention to a specific detail. For beginning students, it's essential to slowly and carefully build a foundation and then allow the structure to rise, one step at a time. This is the key to a lifetime of effortless, injury-free playing. In music and architecture, God truly is in the details.
Architecture starts when you carefully put two bricks together. There it begins.

True education is concerned not only with practical goals but also with values. Our aims assure us of our material life, our values make possible our spiritual life.

I don't want to be interesting. I want to be good.
-Mies van der Rohe