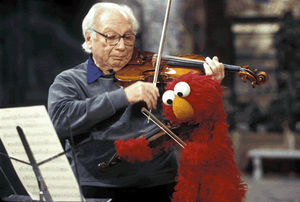 In August came the surprise announcement that the popular children's television program Sesame Street will be moving to HBO. (Reruns will still appear on PBS). The show's nonprofit producers reached a five-year agreement with HBO. For 45 years Sesame Street has been freely available to the community on Public Broadcasting.
Sesame Street's controversial move has raised broader questions about the commodification and privatization of the arts and education at the expense of the public realm. The effect on future programming remains to be seen. But a quick glance back shows that classical music has long been at home on Sesame Street, perhaps giving some children their only exposure to the art form.
Here is a sampling of some of the prominent musicians who have appeared on Sesame Street over the years. Many of these skits involve wacky and unsophisticated comedy. (When Isaac Stern asked for "an A" as a tuning note, he was presented with the letter A). The muppets seem to be asking the questions children might ask if they were there.
Nadja Salerno-Sonnenberg
The Kronos Quartet
Renée Fleming
https://www.youtube.com/watch?v=SJhwmJ8aTHY
Gustavo Dudamel
Wynton Marsalis
Lang Lang
Yo-Yo Ma
Seiji Ozawa
https://www.youtube.com/watch?v=TgTOz9alhfU
Itzhak Perlman