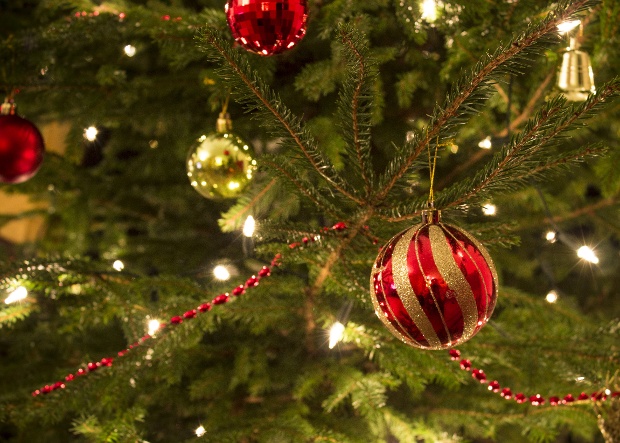 With Christmas just a few days away, here is a short collection of music guaranteed to get you in the holiday spirit. Take a break from the rush of last minute shopping, light the tree, pour some eggnog and explore the playlist:
Pérotin's Viderunt omnes
Let's start off with music from the late 12th century. Pérotin was part of a group of composers at Paris' Notre Dame Cathedral who were influential in early polyphony (more than one voice occurring at one time). Viderunt omnes is built on Gregorian chant, which was probably used in Paris for the Christmas Day liturgy. Here is a translation of the text:
All the ends of the earth have seen
the salvation of our God.
Rejoice in the Lord, all lands.
The Lord has made known his salvation;
in the sight of the heathen
he has revealed his righteousness.
The long, sustained pitches of the original chant, known as a Cantus firmus, form the foundation for the musical lines above. Consider the way the music is flowing. Does it feel linear or circular? Listen to the way the voices fit together, sometimes in canon, and the way the music alternates between pure open fifths and octaves and occasional dense, crunching dissonances.
The music of Pérotin influenced modern minimalist composers such as Steve Reich and Arvo Pärt. In Reich's Variations for Winds, Strings and Keyboards, repeating musical patterns gradually develop over long, sustained pitches.
Here is the Hilliard Ensemble:
https://www.youtube.com/watch?v=bpgaEFmdFcM
[unordered_list style="tick"]
[/unordered_list]
Handel's Messiah
The Christmas season isn't complete without a performance of Handel's Messiah. Here is a 1987 performance by Robert Shaw and the Atlanta Symphony Orchestra and Chorus with soprano Sylvia McNair, mezzo-soprano Marietta Simpson, tenor Jon Humphrey, and Baritone William Stone:
[unordered_list style="tick"]
[/unordered_list]
Greensleeves
Christmas texts have been set to the folk song melody, Greensleeves since at least 1686. Here is Eugene Ormandy and the Philadelphia Orchestra's recording of Ralph Vaughan Williams' Fantasia on Greensleeves:
[unordered_list style="tick"]
[/unordered_list]
Now listen to the way another English composer, Gustav Holst combines the Greensleeves melody with dance music in the final movement of his Second Suite in F for Military Band. In 1912 Holst adapted the same music for strings in the St. Paul Suite. 
Christmas with the Pittsburgh Symphony Brass
The Pittsburgh Symphony Brass has released at least three Christmas recordings since the ensemble was formed in 1994. The group has the sound of a brass choir rather than a quintet, with both bass trombone and tuba. Listen to the rich, powerful harmonic overtones in their playing.
Here is Ding Dong Merrily on High and I Heard the Bells on Christmas Day:
[unordered_list style="tick"]
[/unordered_list]
Three Nativity Carols by Stephen Paulus
This excerpt comes from a CD called Wonder Tidings: Christmas music of Stephen Paulus.
Here is The Holly and the Ivy, This Endris Night, and Wonder Tidings:
[unordered_list style="tick"]
[/unordered_list]