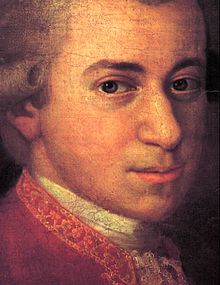 Mozart's Così fan tutte ("Thus Do They All") falls under the category of opera buffa, or comic opera. It's an absurd story of "fiancée swapping," which ultimately turns out all right in the end.
In a coffeehouse in Naples, two military officers, Ferrando and Guglielmo, boast that their fiancées, Dorabella and Fiordiligi, will never be unfaithful. Don Alfonso makes a wager that, within a day, he can prove the officers wrong. He believes that all women are ultimately fickle. Accepting the wager, Ferrando and Guglielmo pretend to go off to war, but then return in disguise and attempt to seduce the other's lover.
Amid all of this buffoonery comes one of opera's most sublimely expressive moments. In the Act 1 trio, Soave sia il vento ("May the wind be gentle"), the women and Alfonso wish the soldiers safe travels as their ship sails. There's a hint of the calm ocean in the trio's undulating string lines. But what makes this music so remarkable is the way it transcends the dramatic situation of the opera. We're briefly transported somewhere else, entirely. The music is deeply expressive, but it can't fully be described in words.
In a Metropolitan Opera Orchestra musician profile, cellist Kari Docter talks about a life-changing experience which resulted from hearing Mozart's Soave sia il vento during a Met rehearsal.
Here are Thomas Allen (Don Alfonso), Susanne Mentzer (Dorabella), and Carol Vaness (Fiordiligi) in a 1996 Metropolitan Opera production, conducted by James Levine:
[unordered_list style="tick"]
[/unordered_list]