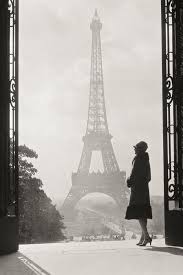 French impressionist composer Maurice Ravel (1875-1937) found inspiration in the American jazz, which was sweeping Paris in the 1920s. At a time of prohibition and racial discrimination in the United States, many African-American jazz musicians settled in Paris, enjoying its liberating cosmopolitan energy. Additionally, Aaron Copland, George Gershwin and other young American composers came to study with eminent composition teacher Nadia Boulanger.
Here is what Ravel said about the potential of the new musical language of jazz:
[quote]The most captivating part of jazz is its rich and diverting rhythm…Jazz is a very rich and vital source of inspiration for modern composers and I am astonished that so few Americans are influenced by it.[/quote]
Let's listen to two of Ravel's jazz and blues influenced pieces from the 1920s:
[typography font="Cantarell" size="28″ size_format="px"]Piano Concerto in G major[/typography]
Here is the Piano Concerto in G major performed by Krystian Zimerman and the Cleveland Orchestra, conducted by Pierre Boulez. The piece opens with splashes of bright color. Pay attention to the way Ravel combines the instruments of the orchestra and the colors created throughout the piece. Around 0:45, you'll hear blues chords which might remind you of Gershwin. In the opening of the whirlwind final movement, listen for the jazzy conversation between the screeching clarinet and the trombone. Do you hear comic elements in this movement?
[ordered_list style="decimal"]
Allegramente (0:00)
Adagio assai (8:38)
Presto (18:09)
[/ordered_list]
Now that you've heard the whole piece, go back and listen again to the second movement. (8:38). In character, this Adagio assai seems far removed from the exuberant outer movements. The long, dream-like solo piano opening almost makes us forget we're in the middle of a piano concerto. Consider how the music is flowing. The three simple beats in the left hand of the piano suggest Erik Satie's static, almost expressionless Gymnopedies. But while Satie's music remains a numb, out of body experience, Ravel's long melody restlessly searches and builds expectation, offering up one surprise after another.
Can you feel a sense of tension and anxiety slowly build as the movement develops? Maybe something ominous and unsettling was lurking slightly below the surface from the beginning? Listen to the frightening chord at 14:53. It's a glimpse of terror which forms the climax of the movement and then quickly evaporates.
At 16:54, think about where you expect to hear the music resolve and then listen to the resolution Ravel gives us. For a moment we enter a new world. What new musical colors do you hear and what instruments does Ravel use to create them? Does the music remind you of the hazy dreamscape of a Monet painting?
[button link="https://itunes.apple.com/us/album/ravel-piano-concertos-valses/id58102588″]Find on iTunes[/button] [button link="http://www.amazon.com/Ravel-Concertos-Valses-nobles-sentimentales/dp/B000009MF7″]Find on Amazon[/button]
[typography font="Cantarell" size="28″ size_format="px"]Sonata for No. 2 for Violin and Piano[/typography]
The second movement of Ravel's Violin Sonata No. 2 also is influenced by the blues. In the opening, it's easy to imagine a sultry day in Louisiana. Here is a performance by violinist Janine Jansen and pianist Itamar Golan:
[ordered_list style="decimal"]
Allegretto (0:00)
Blues. Moderato (8:00)
Perpetuum mobile. Allegro (13:20)
[/ordered_list]
https://www.youtube.com/watch?v=Bfvb_ZavXWw
[button link="https://itunes.apple.com/us/album/debussy-ravel-ysaye-violin/id388786407″]Find on iTunes[/button] [button link="http://www.amazon.com/David-Oistrakh-violin-Debussy-Prokofiev/dp/B00000E3LE"]Find on Amazon[/button]
[typography font="Cantarell" size="28″ size_format="px"]La création du monde[/typography]
Ravel wasn't the only French composer to be influenced by jazz. Darius Milhaud's La création du monde (The Creation of the World), written between 1922 and 1923 is a ballet depicting the creation in African mythology. Here is a performance by Leonard Bernstein and the National Orchestra of France:
[ordered_list style="decimal"]
[/ordered_list]
https://www.youtube.com/watch?v=h3GPtgY9hSQ
[button link="https://itunes.apple.com/us/album/dukas-sorcerers-apprentice/id330698735″]Find on iTunes[/button] [button link="http://www.amazon.com/Creation-Du-Monde-Saudades-Brasil/dp/B000002RP5″]Find on Amazon[/button]