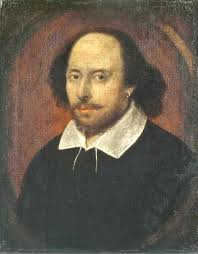 Historians believe that today marks the 450th birthday of William Shakespeare. Throughout history, Shakespeare's plays have been a rich source of inspiration for composers. A few months ago we heard Tchaikovsky's Romeo and Juliet tone poem. Now let's celebrate with some more music inspired by the Bard of Avon:
Play, music! And you, brides and bridegrooms all,
With measure heap'd in joy, to the measures fall.

-As You Like It

The man that hath no music in himself, 
Nor is not moved with concord of sweet sounds,
Is fit for treasons, stratagems and spoils;
The motions of his spirit are dull as night
And his affections dark as Erebus:
Let no such man be trusted. Mark the music.

-The Merchant of Venice
A Midsummer Night's Dream
Felix Mendelssohn was 17 years old when he wrote the famous A Midsummer Night's Dream concert overture in 1826. Sixteen years later, he composed incidental music for the play, which included the Scherzo, Nocturne and Wedding March. 
Mendelssohn's overture captures vividly the atmosphere of the play. We hear the magic of the forest and the scurrying fairies who interfere hilariously in the lives of the other characters. Listen for all the subtle tricks and surprises in the fairy music, such as unexpected, "wrong" chords and out of place voices. Also notice the musical depiction of a braying donkey (3:07):
To hear other musical adaptations, listen to Henry Purcell's 1692 semi-opera in five acts, The Fairy-Queen, and Benjamin Britten's twentieth century opera.
Love looks not with the eyes, but with the mind,
And therefore is winged Cupid painted blind.

If we shadows have offended, 
Think but this, and all is mended,
That you have but slumbered here
While these visions did appear.
And this weak and idle theme,
No more yielding but a dream,
Gentles, do not reprehend:
If you pardon, we will mend:
And, as I am an honest Puck,
If we have unearned luck
Now to 'scape the serpent's tongue,
We will make amends ere long;
Else the Puck a liar call;
So, good night unto you all.
Give me your hands, if we be friends,
And Robin shall restore amends.
King Lear
"No man will ever write a better tragedy than Lear," said George Bernard Shaw. Hector Berlioz was in the audience when an English repertory company came to Paris in 1827. Berlioz's exhilarating King Lear Overture was written in 1831:
Could you hear the stubborn, proud character of King Lear in Berlioz's music? Maybe you also sensed the pure Cordelia in the oboe solo in the introduction (2:47). In his memoirs, Berlioz outlined the program he followed while writing this overture, from the introduction (representing the entrance of the king) to the fast allegro section (the storm). We hear Lear's increasing insanity as his theme merges with the storm music (10:49). You might have noticed the influence of the recitative music from Beethoven's Ninth Symphony in the opening.
Throughout his innovative career, Berlioz was interested in expanding the orchestra and combining instruments in shocking new ways. I love the noisiness of this piece and its slightly deranged quality. The dissonances following the 9:00 mark would have sounded even more jarring in the 1830s. King Lear Overture has all of the romantic, schizophrenic drama of Symphony fantastique. 
I have no way and therefore want no eyes
I stumbled when I saw. Full oft 'tis seen
our means secure us, and our mere defects
prove our commodities.
Othello
In Act 4 of Verdi's opera Otello, just before she is strangled by the jealous Othello, Desdemona sings a quiet prayer for all who suffer (Ave Maria). Read the translated text here. Here the aria is sung by Renee Fleming:
https://www.youtube.com/watch?v=YIUAW2Fg6Zk
O, beware, my lord, of jealousy;
It is the green-ey'd monster, which doth mock
The meat it feeds on. That cuckold lives in bliss,
Who, certain of his fate, loves not his wronger:
But O, what damnèd minutes tells he o'er
Who dotes, yet doubts, suspects, yet strongly loves!
The Tempest
Tchaikovsky's tone poem The Tempest begins and ends with the musical depiction of a calmly undulating sea. Listen for the sudden ferocity of the storm (5:37). Notice the way Tchaikovsky introduces the love theme of Miranda and Ferdinand, following 8:18, suggesting their initial shyness:
Also listen to incidental music for The Tempest by Jean Sibelius. English composer Thomas Adès's recent opera, which premiered in 2004 at the Royal Opera House of Covent Garden, offers a uniquely twenty-first century take on the play. Here Audrey Luna sings a haunting and vocally demanding excerpt.
Our revels now are ended. These our actors,
As I foretold you, were all spirits and
Are melted into air, into thin air:
And, like the baseless fabric of this vision,
The cloud-capp'd towers, the gorgeous palaces,
The solemn temples, the great globe itself,
Yea, all which it inherit, shall dissolve
And, like this insubstantial pageant faded,
Leave not a rack behind. We are such stuff
As dreams are made on, and our little life
Is rounded with a sleep
Henry V
We'll finish up with a film score by English composer William Walton. This music was written for the 1944 film version of Henry V, starring Laurence Olivier. Memorable excerpts include Passacaglia: Death of Falstaff and the triumphant Agincourt Song.
"Touch her soft lips and part" underscores the scene in which Pistol bids farewell to his new wife Mistress Quickly, before leaving for battle in France:
From this day to the ending of the world,
But we in it shall be remembered-
We few, we happy few, we band of brothers;
For he to-day that sheds his blood with me
Shall be my brother; be he ne'er so vile,
This day shall gentle his condition;
And gentlemen in England now-a-bed
Shall think themselves accurs'd they were not here,
And hold their manhoods cheap whiles any speaks
That fought with us upon Saint Crispin's day.
Now it's your turn…
It isn't The Listeners' Club without you. Leave a comment in the thread below and tell us what you heard in the music. What pieces would you add to this list of Shakespeare-inspired music?