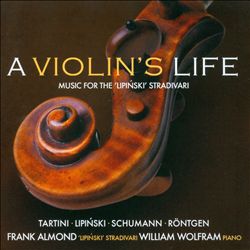 Violinist Frank Almond has come out with an exciting new recording which I highly recommend. A Violin's Life: Music for the 'Lipinski' Stradivari was released on April 19, debuting on Billboard's Top Ten Classical list. Almond is the concertmaster of the Milwaukee Symphony Orchestra and a faculty member at Northwestern University. He is accompanied by pianist William Wolfram.
Here is the interesting story of how the "Lipinski" Stradivari, one of the world's finest violins, came into Frank Almond's hands in 2008. A Violin's Life celebrates this instrument by featuring music from its impressive history. The disk opens with the "Devil's Trill" Sonata by Giuseppe Tartini (1692-1770), the violin's first owner. Here is an excerpt:
Also included on A Violin's Life is the rarely heard Violin Sonata No. 2 in F sharp, Op. 20 by Julius Rontgen (1855-1932), Caprice Op .29, No. 3 by the influential but largely forgotten violinist, Karol Lipinski (1790-1861) and Robert Schumann's Violin Sonata No.2 in D minor, Op.121. I found the Rontgen reminiscent of the Brahms Sonatas. The Lipinski Caprice is a daredevil virtuoso adventure in double stops.
A Violin's Life can be found on iTunes and at Amazon. For listeners who are interested in delving deeper into to the history of this music and the "Lipinski" Strad, Frank Almond provides a website, aviolinslife.org. He introduces the CD and provides further samples here:
It's widely believed that the sound of a violin can be influenced and shaped by the performers who use it. The rich lineage of the "Lipinski" Strad is on full display in this recording as the past meets the future. A Violin's Life will be a fascinating and enjoyable recording for all who love the violin.