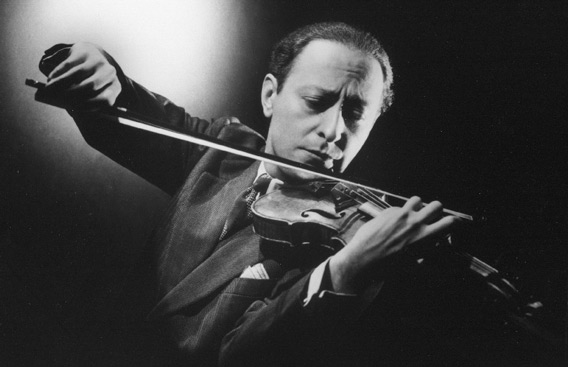 Jascha Heifetz: God's Fiddler, the American Masters documentary which aired last week on PBS, offers an inside look at the life of one of the twentieth century's most influential violinists. The program includes rare film and audio clips and features interviews with prominent contemporary violinists and former Heifetz students. It follows Heifetz from child prodigy roots in Russia, where he was a student of Leopold Auer at the Saint Petersburg Conservatory, to his immigration to the United States and longtime residence in Southern California. In addition to his private and somewhat lonely personal temperament, the documentary highlights Heifetz's rigorous sense of discipline and emphasis on scales.
Jascha Heifetz raised the bar for all violinists who followed, his name becoming synonymous with technical perfection. His recordings suggest an exhilarating sense of pushing limits…staying right "on the edge" without ever falling. This quality seems to have been present from the beginning. As the story goes, the young Jascha launched into Paganini's Moto perpetuo at such a stunningly fast tempo that Leopold Auer gasped, saying, "He doesn't even realize that it can't be played that fast." Heifetz's playing transcended sentimentality, unleashing raw power and blinding intensity.
A Sample of Heifetz Recordings
The Tchaikovsky Violin Concerto with Fritz Reiner and the Chicago Symphony:
The Sibelius Violin Concerto with Walter Hendl and the Chicago Symphony in 1960:
Chaconne, From Partita No.2 In D Minor, BWV 1004 by J.S. Bach:
https://www.youtube.com/watch?v=6q-Zqz7mNjQ
The Girl with the Flaxen Hair by Claude Debussy:
Heifetz's arrangement of George Gershwin's It Ain't Necessarily So:
[unordered_list style="tick"]
[/unordered_list]
There is no top. There are always further heights to reach.

If I don't practice one day, I know it; two days, the critics know it; three days, the public knows it.
-Jascha Heifetz