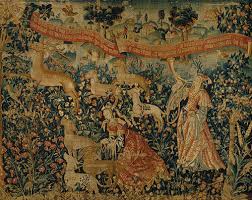 The sound of horns and trumpets evokes ancient and sometimes subconscious associations. Horns were used during the hunt to call hounds because their sound was similar to the human voice but could carry for great distances. Trumpets served as a way to communicate on the battlefield during military campaigns. Originally these instruments were played without valves. Only pitches in the harmonic series were available, leading to a uniquely "open" sound.
Let's listen to a few pieces that were inspired by sounds of the hunt:
[typography font="Cantarell" size="28″ size_format="px"]Paganini Caprice No. 9 in E Major[/typography]
Paganini's Caprice No. 9 for violin imitates the sound of hunting horns. Here is a great performance by James Ehnes:
[typography font="Cantarell" size="28″ size_format="px"]Hunter's Chorus[/typography]
Suzuki violin students learn an arrangement of Carl Maria Von Weber's Hunter's Chorus in Book 2. Here is the original version from Act 3 of Weber's opera, Der Freischütz. Read the synopsis of the opera here.

[typography font="Cantarell" size="28″ size_format="px"]Bruckner's "Hunt" Scherzo[/typography]
Anton Bruckner drew upon the mythical associations of horns and trumpets in the Scherzo of Symphony No. 4 in E-flat Major. Listen to the sense of quiet excitement and anticipation Bruckner creates in the opening of this movement as a medieval forest awakens. Notice the sound of distant, echoing horn and trumpet calls around 1:27. At 4:05 you'll hear a more pastoral trio section before the return of the Scherzo.
Listen to Daniel Barenboim and the Vienna Philharmonic perform Bruckner's entire Symphony No. 4 here. The opening of the first movement, which also features the horn, emerges out of silence. The hushed string tremolo creates an intense rumble which seems otherworldly.
Did I miss any significant pieces which are inspired by the hunt? Share your own music in the thread below.
[quote]The basic hunting myth is of a kind of covenant between the animal world and the human world. The animal gives its life willingly, with the understanding that its life transcends its physical entity and will be returned to the soil or to the mother through some ritual of restoration. -Joseph Campbell, "The Power of Myth"[/quote]