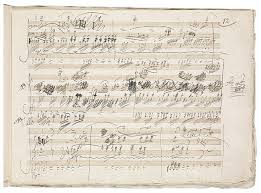 When you hear the second movement of Beethoven's Piano Trio in D Major, Op. 70, No. 1, you'll immediately understand why this piece earned the nickname, the "Ghost" Trio. It's some of the most eerie, strange and terrifying music ever written. It constantly keeps you off guard, taking sudden and unexpected turns, like a shadowy apparition which is there one minute and gone the next. As the second movement unfolds, it may play tricks with your perception of time.
Beethoven's ability to pack a universe of drama and color into three instruments is amazing. There are moments which seem strikingly symphonic (he had just finished the Fifth and Sixth Symphonies). At times, even tonality seems to be on the verge of slipping away (the second movement's prolonged trills in the low depths of the piano which confuse the ear).
Gustav Mahler said, "A symphony must be like the world. It must embrace everything." It's easy to get a similar sense with this trio. The outer movements are emotionally far removed from the haunting Largo. There are moments of giddy joy, love and gratitude. All of these contrasting emotions are a great reminder that this music expresses much more than the frustrations and torment of a man who was slowly losing his hearing. Beethoven's music transcended his life, tapping into something much deeper and more universal. In that respect he "heard" things no one else could.
Beethoven wrote the two Op. 70 Trios in Heiligenstadt during the summer of 1808. Around this time he was contemplating an opera based on Shakespeare's Macbeth. The opera remained unwritten, but its ghosts seem to have found their way into Op. 70, No. 1.

Here are Isaac Stern, Yo-Yo Ma and Emanuel Ax in concert in Paris in 1992:
[ordered_list style="decimal"]
Allegro vivace e con brio (0:00)
Largo assai ed espressivo (6:02)
Presto (17:09)
[/ordered_list]
http://youtu.be/Vaip_kccN1Q?t=20s
[unordered_list style="tick"]
[/unordered_list]