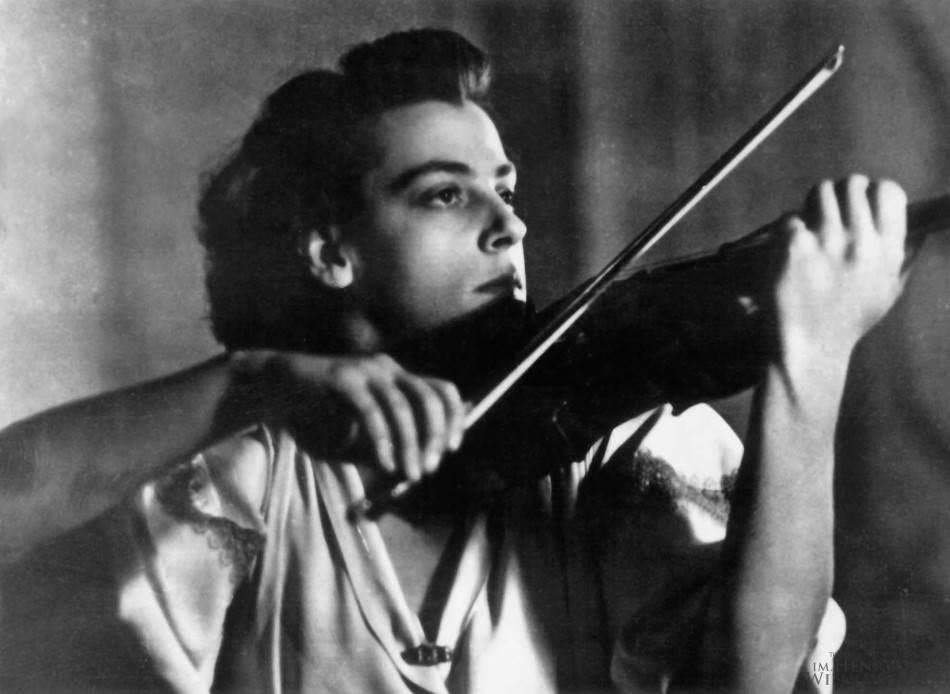 Tomorrow marks the 104th anniversary of the birth of French violinist Ginette Neveu. At the time of her tragic death at the age of 30 in an airplane crash, Neveu was widely regarded as one of the finest violinists of her generation. Her playing was characterized by an almost otherworldly fire and searing intensity. Her recordings exhibit a natural perfection of phrasing and a soulfulness of sound that cut through the limitations of early phonograph technology. In his book Great Masters of the Violin, Boris Schwarz described Ginette Neveu's playing this way:
No one who saw or heard her could forget that impression-the serious concentration, the complete immersion in her task, the burning yet controlled intensity. To speak of technique is pointless because it never served for display-it was always subordinate to a musical goal. 
Ginette Neveu was five when she began to study the violin, first with her mother and then with Jules Boucherit, George Enescu, Nadia Boulanger, and Carl Flesch. When she was seven she performed the Mendelssohn Violin Concerto in Paris with the Colonne Orchestra. At the age of fifteen she won the Henryk Wieniawski Violin Competition, beating out 180 other contestants, including David Oistrakh who was awarded the second prize. She helped to popularize the Sibelius Violin Concerto and gave the premiere of the Violin Sonata (Op. 119) by Francis Poulenc.
On October 28, 1949 she was en route to concert engagements in the United States when her Air France flight crashed into a mountain after two failed attempts to make an emergency landing at an airport on  São Miguel Island in the Azores. Her accompanist and brother, the pianist Jean-Paul Neveu, was also killed. Following her death, cellist Pablo Casals wrote,
For me her playing has always been one of the greatest revelations of the instruments and of music. To the impression of perfection, balance, and artistic taste, she added in her interpretation, fire and abandon which filled her playing with richness. 
Brahms and More
Here is Neveu's 1948 recording of the Brahms Violin Concerto with conductor Issay Dobrowen and the Philharmonia Orchestra. Keep listening after the concerto and you'll hear a collection of shorter pieces: Suk's Four Pieces, Op. 17 (at 38:16), Chopin's Nocturne No. 20 (at 54:22), Ravel's Tzigane (at 58:40), Falla's Danse espagnole (at 1:08:54), and the showpiece Hora staccato by Romanian virtuoso violinist Grigoraş Dinicu (at 1:12:20).
https://www.youtube.com/watch?v=0duhxWX0-As
Sibelius Violin Concerto
Here is the final movement of the Sibelius Violin Concerto with conductor Walter Susskind and the Philharmonia Orchestra. (You can listen to the first two movements here). The tempo is slightly slower than we often hear, but every note can be heard and there is a powerful sense of a Nordic dance taking flight:
Strauss Violin Sonata
Here is Richard Strauss' Violin Sonata in E-flat, Op. 18, a soaring, Romantic work by a composer we usually associate with large-scale orchestral tone poems:
[unordered_list style="tick"]
[/unordered_list]