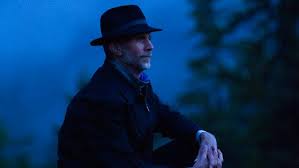 Become Ocean by John Luther Adams (b. 1953) has won the 2014 Pulitzer Prize for music. The large-scale work for orchestra was commissioned by the Seattle Symphony. Music critic Alex Ross attended the premier last June in Seattle. In Listen to This, Ross visits the composer's home in Alaska. The remote Alaskan wilderness seems to be a strong influence in Adams's music.
Music Director Ludovic Morlot and the Seattle Symphony will perform Become Ocean in New York at Carnegie Hall on May 6 as part of the Spring for Music series.
[typography font="Cantarell" size="28″ size_format="px"]Dark Waves[/typography]
Let's listen to John Luther Adams's 2007 tone poem, Dark Waves. Adams adds electronic sounds to the orchestra, creating gradually shifting sonic layers. Consider how the music is flowing. What images come to mind? Here is a live performance by the Chicago Symphony with conductor, Jaap van Zweden:
https://www.youtube.com/watch?v=uhTusoemAdI
[button link="https://itunes.apple.com/us/album/john-luther-adams-red-arc/id266696424″]Find on iTunes[/button]
Dark Waves suggests an almost physical sense of motion…the gradual, inevitable power of an endless series of waves cresting and breaking. For me the music is pictorial, like a slowly changing landscape. But, similar to Debussy's La Mer, it evokes feelings rather than literal images. In the music of John Luther Adams, New Age meets Edgard Varèse and Morton Feldman.
[quote]Together, the orchestra and the electronics evoke a vast rolling sea. Waves of Perfect Fifths rise and fall, in tempo relationships of 3, 5 and 7. At the central moment, these waves crest together in a tsunami of sound encompassing all twelve chromatic tones and the full range of the orchestra.[/quote]
-John Luther Adams