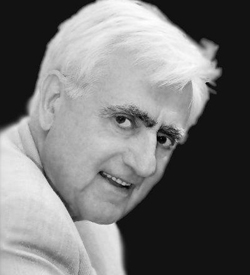 The Swiss-born American composer Bernard Hoffer turns 81 today.
You may not recognize Hoffer's name, but chances are good that you've heard his music, especially if you're a longtime viewer of the PBS NewsHour. The NewsHour's theme music (originally written in 1975 and, at one point, nominated for an Emmy) has undergone several iterations over the years, but Hoffer's catchy six-note musical branding logo has remained.
For years, the broadcast opened with that familiar solo trumpet, layered strings rising with exuberance, an emphatic, "no nonsense" resolution, and then a strange, unresolved chord which faded into the headlines, as if to say, "News is never resolved. It's always about what happens next…" (Listen here). Those rising strings have always reminded me of a vaguely similar passage from the opening of Jupiter, The Bringer of Jolity from Gustav Holst's 1916 suite, The Planets. (Listen and see if you agree).
Hoffer's memorable closing music for The NewsHour has the buoyancy, elegance and sense of motion of Ravel's Le Tombeau de Couperin. Listen carefully to everything that's happening in this music, from the pizzicato bass line, to the fun rhythmic counter-currents, to the effortless sequence from one key area to another. Not bad for music which is intended to be purely utilitarian and commercial.
Hoffer's MacNeil/Lehrer Variations liberate this made-for-TV music. The familiar motives are allowed to abandon their assigned roles and freely play and develop. Fittingly, the piece ends with that fading, unresolved chord, only this time Hoffer has a surprise up his sleeve…
This album, released in 2012 and featuring the RTÉ National Symphony Orchestra includes three additional works: the Elegy for a Friend, and Elegy for Violin and String Orchestra, music Hoffer wrote following the passing of friends and loved ones, and Symphony "Pousette-Dart," inspired by the work of New York abstract expressionist painter, Richard Pousette-Dart.
A graduate of the Eastman School of Music, Bernard Hoffer's other memorable scores include cartoon music for Thundercats and Silverhawks.
[unordered_list style="tick"]
[/unordered_list]