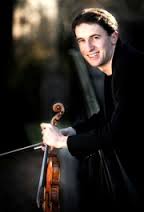 Last Friday we learned that Noah Bendix-Balgley, concertmaster of the Pittsburgh Symphony, won an audition for the position of first concertmaster with the Berlin Philharmonic. The news shows just how global the classical music world has become. Over the last decade, English conductor Simon Rattle has brought a fresh new approach to tradition-bound Berlin. When Rattle leaves in 2018, it will be interesting to see how the organization again attempts to balance tradition with innovation.
Here is an impressive clip of Noah Bendix-Balgley playing the virtuosic concertmaster solo from Richard Strauss's Ein Heldenleben with the Pittsburgh Symphony. It's hard to imagine anyone playing it better:
https://www.youtube.com/watch?v=2oTCqTdxgPI
And here he is playing the Romanian Dances by Bela Bartok with pianist David Allen Wehr:
Bendix-Balgley plays a 1732 Bergonzi violin which he talks about here.