Whether you're looking for the perfect gift or you want to expand your CD collection for the new year, here are five recordings which I highly recommend: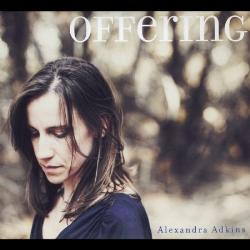 Offering Alexandra Adkins, violin
Find at the artist's website
Find on Amazon 
Alexandra Adkins is a member of the Houston Symphony violin section.  Last December she released this CD which includes sonatas by Handel, Leclair, Corelli and two movements from Bach's Partita in d minor.  For the Handel and Corelli she is accompanied by guitar, providing a unique twist.  Also included are three contemporary tracks featuring hymn tunes and a song written by Adkins. Listen to this interview to learn more about Offering.  This is a fun and diverse CD that celebrates the idea that great music transcends categories.

Brahms: The Violin Sonatas Oleh Krysa, violin and Tatiana Tchekina, piano
Find at TNC Recordings
Find on Amazon 
This is my former teacher's rare and inspiring recording of the three Brahms Violin Sonatas.  While there are many recordings of this music, it's hard to imagine a more perfect interpretation.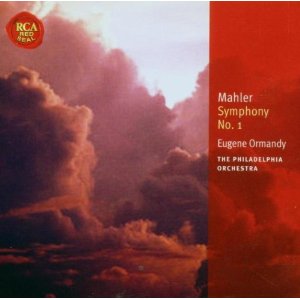 Mahler Symphony No. 1 Eugene Ormandy, conductor with the Philadelphia Orchestra
Find on Amazon
Find at Barnes and Noble
If you're not familiar with the dramatic and deeply psychological music of the late Romantic composer Gustav Mahler, this recording will be a great introduction.  If you're already a Mahler fan you will enjoy hearing the original second movement Blumine (flower piece) which Mahler later cut from the Symphony.
This recording was first released in 1969.  You will notice the legendary, lush and perfectly blended string sound that the Philadelphia Orchestra was known for at that time.  One of the most striking examples of this occurs in the dreamy middle section of the Fourth Movement where the strings emerge with a velvety, veiled sound.
Mahler's Songs of a Wayfarer are included on the disk.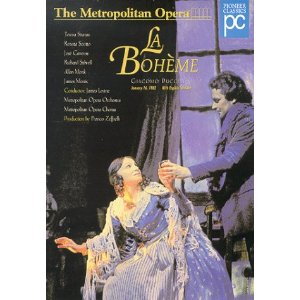 La Boheme The Metropolitan Opera with Teresa Stratas, Renata Scotto, Jose Carreras, Richard Stilwell, Allan Monk, James Morris, James Levine, conductor, Franco Zeffirelli, producer
Find on Amazon
Find at the Met Opera Shop
If you're new to opera this DVD is a great place to start.  Puccini's La Boheme has a great story and features one beautiful melody after another.  English subtitles are provided.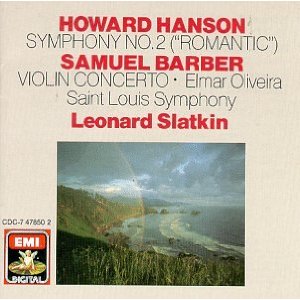 Howard Hanson: Symphony No. 2 "Romantic", Samuel Barber: Violin Concerto Elmar Oliveira, violin Leonard Slatkin, conductor with the Saint Louis Symphony
Find on Amazon
Find at classicsonline
This 1990 Grammy nominated CD features music by two twentieth century American composers.  There have been many recordings of Samuel Barber's Violin Concerto since this came out, but Elmar Oliveira's interpretation still endures.  Some violinists overly schmalz this already Romantic music.  Oliveira goes for something deeper and more profound and captures the true essence of the piece.
Hanson's Symphony No. 2 might remind you of a lush movie score and the wide open plains.  There is another good recording of this piece by Gerard Schwartz and the Seattle Symphony.  I prefer the slightly slower and more thoughtful tempos that Slatkin takes in this recording, especially in the Second Movement.