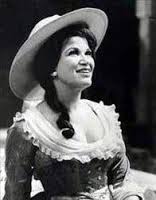 Dramatic coloratura soprano Rita Shane passed away last thursday at the age of 78. Following her 1973 Metropolitan Opera debut as the Queen of the Night in Mozart's The Magic Flute, she appeared regularly at the Met in a total of 71 productions. In 1989, Shane joined the faculty of the Eastman School of Music.
You can get a sense of Rita Shane's brilliance and extensive vocal range in these short excerpts: Ah! Si j'étais coquette ("Ah! if I were flirtatious") from Giacomo Meyerbeer's Les Huguenots and "O zittre nicht, mein lieber Sohn" ("Tremble not, my dear son") from Mozart's The Magic Flute.
The most famous example from The Magic Flute is the "Vengeance Aria" from Act II. The enraged Queen of the Night gives her daughter a knife and implores her to kill Sarastro (Read the synopsis and hear more music from the opera here). Shane brings more than technique to this gruesome aria (below). She captures the ferocious passion of the character.
The role of the Queen of the Night was first performed by Mozart's sister-in-law, Josepha Hofer, who was known for her wide vocal range. The aria's high "F" (above high "C") reaches nearly the upper limit of a soprano's range.
Here is a translation of the libretto:
Hell's vengeance boils in my heart;
Death and despair blaze around me!
If Sarastro does not feel the pain of death because of you,
Then you will be my daughter nevermore.

Disowned be forever,
Forsaken be forever,
Shattered be forever
All the bonds of nature
If Sarastro does not turn pale [in death] because of you!
Hear, hear, hear, gods of vengeance, hear the mother's oath!