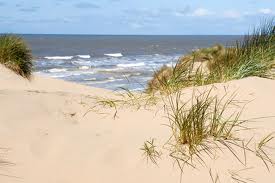 Today is the 100th birthday of twentieth century English composer Benjamin Britten (1913-1976). Let's celebrate by listening to Britten's Four Sea Interludes from the opera, Peter Grimes. Played during scene changes, these interludes express the drama of the opera's unsettling story. As you listen, consider the mood that Britten evokes and pay attention to the orchestration. You can read the synopsis of the entire opera here.
Here is a recording of a live 1990 performance by Leonard Bernstein and the Boston Symphony at their summer home in Tanglewood. It turned out to be Bernstein's final concert.

[ordered_list style="decimal"]
Dawn – Lento e tranquillo (0:00)
Sunday Morning – Allegro spiritoso (3:41)
Moonlight – Andante comodo e rubato (7:42)
Storm – Presto con fuoco (12:42)
[/ordered_list]

https://www.youtube.com/watch?v=SE6GRSOaRw4
[button link="https://itunes.apple.com/us/album/britten-four-sea-interludes/id491009760″]Find on iTunes[/button] [button link="http://www.amazon.com/Bernstein-The-Final-Concert-Beethoven/dp/B000001GEY"]Find on Amazon[/button]
As you listened to the first interlude could you sense the shimmering sea, the splash of waves and a vast expanse of unbroken water stretching into the horizon? The music reflects a calm sea, but underneath there is a sense of foreboding. In the second interlude we hear church bells ringing and the sounds of seagulls. Towards the end of the final interlude as the storm subsides, the eternal presence of the sea brings a feeling of calm and safety…or is there still something slightly menacing lurking below the surface? The final lines sung by Peter Grimes are:
[quote]"What harbor shelters peace, away from tidal waves, away from storms? What harbor can embrace terrors and tragedies?"[/quote]
You can learn more about the life and music of Benjamin Britten here and here.